Chaparral chaps
A lot of people played a part in the rich history of Chaparral. Owners, drivers, mechanics, engineers, sponsors, Chevrolet R&D people, etc. Of all the people involved, one person is the pivot point. Without Jim Hall the unique, remarkable and seemingly endless series of events, what Chaparrals' history really is, never would have happened. My perception of Jim Hall? Well, over the years, I build myself an image of this man. In the beginning, for me, he represented the exotic world of the far West. In my teenage years, without all the media of today, that meant: cowboys like Clint Eastwood in Rawhide, cars like battleships, endless prairies with endless roads going nowhere. The Michel Vaillant comic book "The betrayal of Steve Warson" didn't help much to adjust this image! Reading 'Chevrolet = racing ..?' by Paul van Valkenburgh in the mid Seventies was a giant step. The world of American motor racing was still very exotic and wild beyond my imagination but, on the other hand, it seemed to be bloody serious business as well! Later on I read about colourful people like Carol Shelby with whom Hall ran a sportscar dealership in the late Fifties. They imported expensive racing cars like Ferraris, Coopers and Maseratis from Europe. Carol later became the 'Cobra man', one of Hall's competitors in racing. I read about four men (amongst them Jim Hall and Hap Sharp) buying a piece of scrubland in the middle of nowhere to build a racetrack named Rattlesnake Raceway. The name didn't leave much to the imagination of the neighbourhood (during a test session in 1970, the 2J came to a halt at the very end of the track and helpless Vic Elford didn't dare to leave the car!). The first race took a drivers' life and that was the end of the competition activities at the track. Hall and Sharp became sole owners and the Chaparral nest was there.
Chaparral connected people
As my files grew, also my wish to get a visual overview of the extensive group of (essential) people connected to Chaparral and their role got bigger. One day I started a try out by putting them on a kind of timeline. I'm still working on it. It's an ongoing process. For the time being, the results you'll find here.
It's a compilation from different sources but he book Chaparral Can-Am & Prototype Race Cars by Dave Friedman was extra helpful because this book is a stunning photographic record with many people portrayed and appointed.
I have divided the people into subgroups (red markings). A p. with number between brackets refers to photos at pages in the book mentioned. An added Falc. refers to the book Chaparral by Richard Falconer and Doug Nye.
There are still a lot of question marks, it's far from complete. So many things have yet to be specified and researched but I'm happy with this attempt to put together this "Chaparral Family Timeline". If you can add information, please let me know.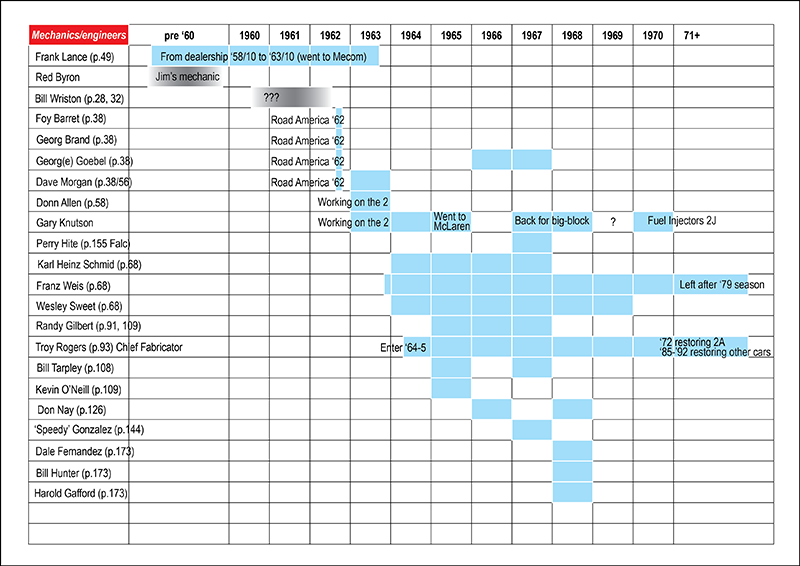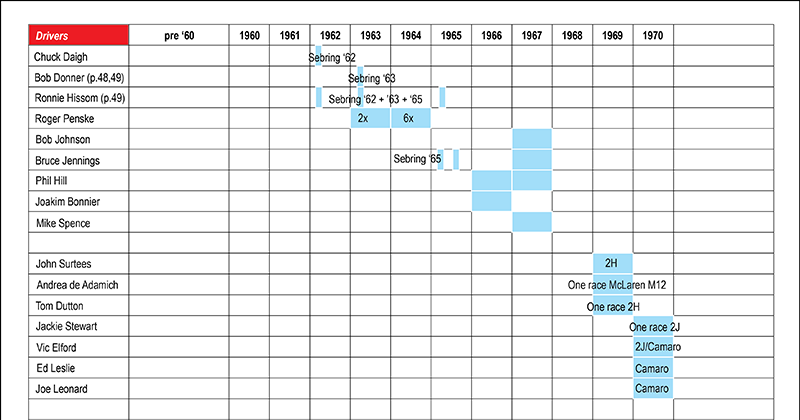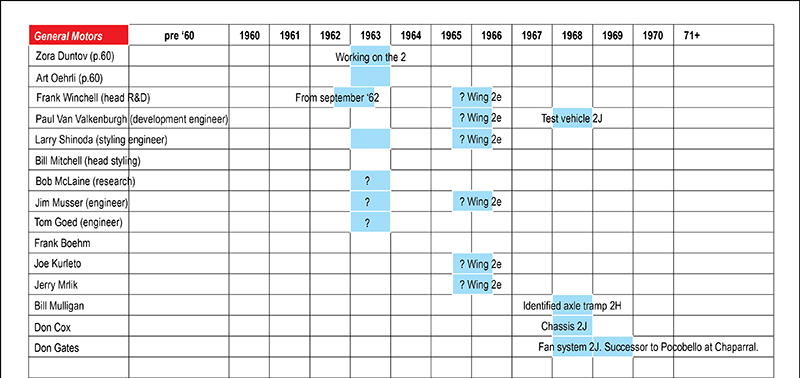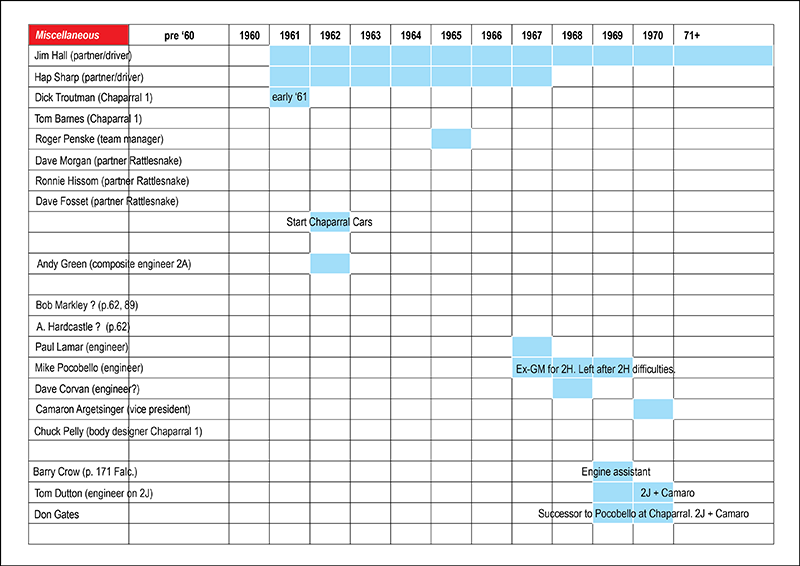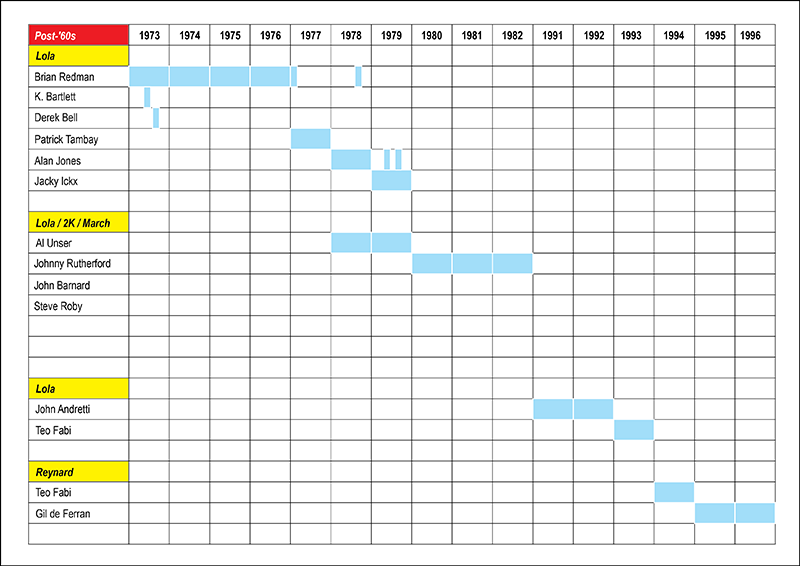 Hap Sharp, forum information about his suicide
Today, September 5th 2009, I was searching the internet for more information about Hap Sharp, still triggered by the Wikipedia line: "He committed suicide in 1993 after some problems in his personal life."
I found the following information on www.trackforum.com/forums (see 4th post). It was posted on the forum by 'doogerbeck' on 06-22-2008:
"I read with fondness the comments regarding Hap Sharp. He was a friend of our family in his final years as I was from Aspen and he had a home there that he spent much of his time at. Hap was a very talented man in many ways and liked to do things in a big way without attracking attention. Much is not known about his business and personal activities but here is some additional information you might find interesting. Hap was one of (if not the) largest land owners in Venezuela and Argentina where he owned 100,000's of acres. it is also down there where he took his life after learning of a serious illness (he always said he would take care of the cure if he ever got it - cancer). So he was a land owner in many countries and in many US states. He also had the distinction of owning the first fiberglass hulled yacht (not boat, think bigger) which he kept in the pacific Northwest while he owned it. He loved to ski, gamble and run businesses in real estate, oil, automotive parts, cars (especially race cars) and many other areas. He was a fun, loving person with a closet interest in technology (camers, computers and the like). Just think of what other inventions and products he would have come up with had he lived even longer. He was a great guy and is missed. I thought you might enjoy some more details about his life....He is up there watching us all and wants us to enjoy life!"
And 'Gurney36' posted the following on 06-24-2008: "He also played Polo with the Milwaukee Polo Club around 1970."
Doogerbeck (and Gurney36); many thanks for sharing this info on trackforum. Of course I cannot verify this info and I hope we can trust it. But I think it is appropriate for this Chaparral dedicated site to pass this info on. If anyone wants to react, please feel free to do so.
Phil Hill (1927 - 2008)

In August 2008 Phil Hill passed away. To many race fans he was the first (and only) American born world champion. To me he was one of the most important Chaparral drivers. He scored the team's sole CanAm win, co-drove the winning 2D at the Nürburgring and did the same with the victorious 2F at Brands Hatch. His last race he won. Fitting.
I praise myself lucky to have met Phil Hill at the Goodwood Festival of Speed in 1997. A modest little man with an ancient red Chaparral jacket chatting with Hall and various spectators. I observed the man, seventy years of age, climbing out of the 2F, a similar car in which he won the BOAC 500. "I forgot how to climb out of the damn thing!" he muttered, but all weekend he clearly enjoyed being a Chaparral Chap again.
When I think of Phil Hill, I see this tiny jockey-like figure, with that white, even for those days, old fashioned, worn helmet and goggles. He wore the same style at Goodwood! Photographs of the past show his sheer professional concentration when seated in a racing car. But outside the car he is often laughing or making jokes. Prototype 50's/60's racing driver. Never seriously injured though where many, many drivers of the era were killed. Remarkable. Phil Hill, many thanks for your contribution to the Chaparral legacy.
Please visit www.philhill.com.
Hall/Reventlow comparison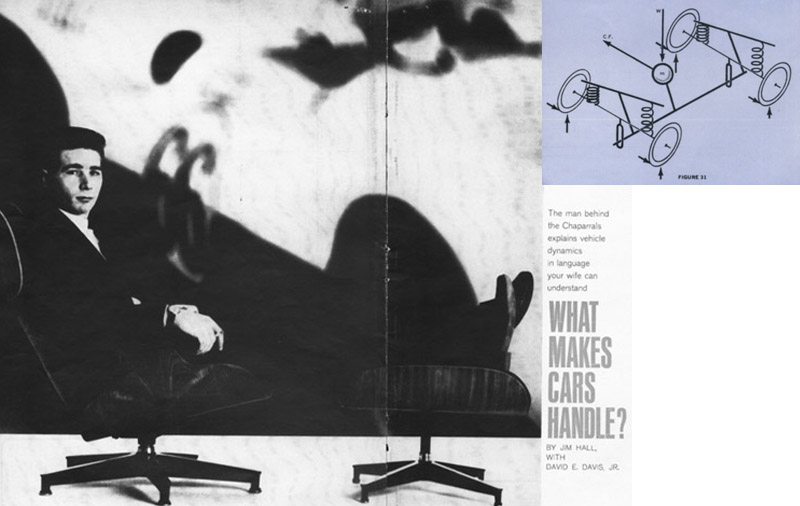 It is interesting to compare Jim Hall with a guy like Lance Reventlow. Both were young and wealthy Americans, both had the dream to build and race homebred cars of their own make as an alternative of buying European stuff. Whereas Reventlow was more of a facilitator, Hall was a creative genius. Lance started his Scarab company a few years earlier, had reasonable success and finally even developed a Formula 1 car. That project was beyond the possibilities of the team however and it became a complete disaster. Reventlow, frustrated, pulled the plug. Where Reventlow stopped, Hall took over. He hired former Scarab duo Troutman and Barnes to design the Chaparral 1. And although its concept, front engine, was already obsolete by the time, Hall continued developing the car. Determined and committed to really understand the car. By doing so his engineering capabilities grew and formed the basis of his very successful career. He became a technical authority himself. In 1965 Car & Driver published a series of articles, co written by Jim Hall, explaining vehicle dynamics "in language your wife can understand". In 1970 Hall also stopped (although temporarily). Not because he was exceeding his project management limitations like Reventlow but because he felt he was not being rewarded for all his innovative ideas by motorsports' authorities. In my opinion Hall, more than anyone else, represented the very fast journey from the era of 'backyard specials' to space age technology. A development in less than 10 years!
Jim Hall and his formula 1 season with the British Racing Partnership
The 1961-1965 formula 1 seasons were run under the 1500 cc rules. It was a most interesting period with consecutive champions Phil Hill (a future Chaparral driver), Graham Hill (no family), Jim Clark, John Surtees (yet another future Chaparral man) and Jim Clark again. In those years a lot of private and semi-private teams bought year old cars from the factory teams to race them for another season or two. Those privat teams often signed first class drivers. Guys like Bandini, Moss, Salvadori, Bonnier (hey, another future Chaparral chap!) and Trintignant for example. They were highly rated and classified often very well in the championship standings.
One of those privateers was the British Racing Partnership. It started in the late fifties. The team was run by Alfred Moss (the father of ..) and Ken Gregory. In 1961 and 1962 the team was known as U.D.T. Laystall because they were financing the operation. When, at the end of '62, Laystall stopped the team was named B.R.P. again. Drivers of the team became Innes Ireland (who drove already for the team in the Laystall days) and a certain Jim Hall.
Jim Hall was not known in 'the Old World', home ground of Grand Prix racing. As far as I know he had done only four formula 1 races until then, all of them on the American continent. He debuted in formula 1 in 1960 at the US Grand Prix at Riverside.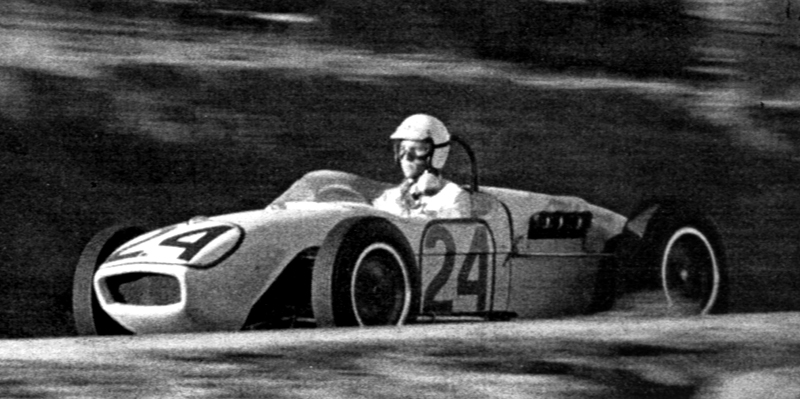 In a Lotus 18 he ran as high as 5th but retired with gearbox trouble (photo: Road & Track). At Watkins Glen in 1961 he raced an ex Trevor Tailor factory Lotus 18/21 with the 4 cylinder Climax engine. His 1.21.8 practise time put him on the last row of the grid. His racing mate Hap Sharp was one place in front with a Cooper 53. Hap finished 10th, Jim retired with a broken fuel pipe and Innes Ireland, his team mate in the making, won in a factory Lotus.
In 1962 Jim tried again at the Glen. This time he drove the 1961 ex Jack Brabham Lotus 21. During practise the suspension broke and he couldn't start the race. Sharp had better luck with his Cooper 51 and finished 11th.
In the next, non-championship, Mexican Grand Prix Jim started 10th and finished 4th with his Lotus 21 and his team mate for the occasion, one Homer Rader (?), drove Jims' Lotus 18/21 to 8th place. Jim Clark won.
So Jim Hall didn't have very much formula 1 experience but a fine reputation in American sports car racing and the result of the Mexican race resulted in the 1963 B.R.P. contract. In those days Hall was building and developing his Chaparral 2 sports car already, together with Sharp. So it became a busy season with a lot of trans Atlantic travelling.
At the start of the season, the B.R.P team cars were year old Lotus 24s with BRM (British Racing Misery) V8 engines and Colotti transaxles. Chassis numbers: 944 (Ireland) and 945 (Hall).
The first race was the non-championship Lombank Trophy at Snetterton (photo: Car & Driver).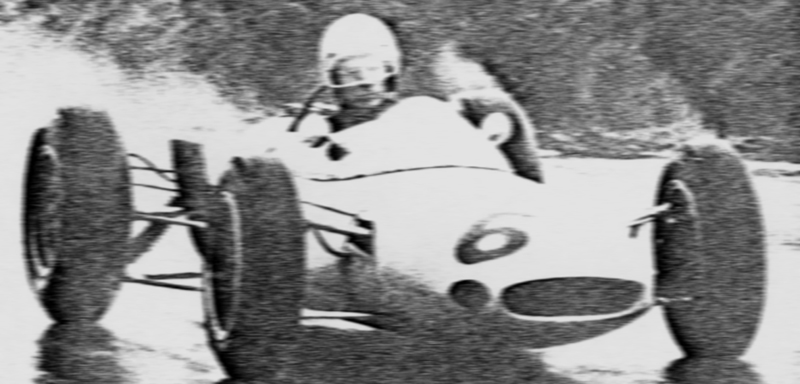 The race was a reasonable successful start for the B.R.P. with Ireland 3rd behind Hill and Clark and Hall 6th behind McLaren (his main future CanAm competitor) and fellow American Ritchy Ginther.
The second race, the Glover Trophy at Goodwood was also a non-championship round but as usual there was a strong drivers' line up (funny days back in the sixties!). Ireland won and Hall finished a fine 4th in front of Amon and Brabham. For Hall the nice series came to a halt and a string of bad luck was to come. He DNFd in the next four races: Aintree and Silverstone (both non-championship races) and Monaco and Spa Franchorchamps. In the Ardennes his chassis was very badly damaged in a crash. Ireland finished 2nd at Aintree and 4th at Silverstone and DNFd in both Monaco and Spa.
The team had his first own car, the B.R.P. 1 (V8 BRM and Colotti), ready for Ireland at the next race at Zandvoort (it debuted 4th) so Hall could use the 944. He finished 8th with this car.
Reims brought a 9th for Ireland and Hall an 11th.
In the meantime the 945 was repaired and Hall drove it to 6th place at the Grand Prix of Silverstone and 5th in Germany at the Nürburgring. Ireland DNFd in both races. Between these two Grand Prix there was a non-championship race at Solitude. Hall finished 6th and Ireland 3th.
Zeltweg in Austria also was a non championship race. Hall drove a strong 3rd fastest practise time but an engine failure meant another DNF. Ireland had to drive his old 944 because his damaged B.R.P. 1 chassis, after a crash during practise at the Nürburgring, was still not ready. With the Lotus he finished 8th.
At the Monza Grand Prix the British Racing Partnership was back on track with a 4th for Ireland in the BRP and 8th for Hall in the Lotus.
Hall missed the Cold Cup at Oulton Park (non-championship) because he had to drive his Chaparral 2 in the US. Mike Beckwith was his replacement driver. In his one and only formula 1 race Beckwith nearly totalled the Lotus 945 in a crash. Ireland DNFd the 944.
Then it was back to the races on the American continent. Hall had to drive the 944, DNFd at Watkins Glen and finished 8th in Mexico. Ireland drove a Lotus 24 with unknown chassis number and did not qualify for both races.
And here he was again: good old Hap Sharp! He drove for Reg Parnell, DNFd at the Glen and finished 7th in Mexico.
Thus ended the truly busy, 15 races, 1963 season.
Ireland collected 6 points, Hall 3 points. Altogether the results for the British Racing Partnership were:
One 11th (Hall), one 9th (Ireland), four times 8th (1 Ireland, 3 Hall), 3 times 6th (Hall), one 5th (Hall), four times 4th (3 Ireland, 1 Hall), two times 3rd, one 2nd and one 1st (Ireland). Hall DNFd 6 times, Ireland 5 times.
Jim Hall left the team and the formula 1 world because he felt it would take another 3 to 4 years to become a real championship contender. He didn't want to wait that long. He had to work on his own Chaparral, the car that would dominate North American sports car racing in 1964 and 1965. And 'the Old World' would have to deal with his 2D and 2F endurance coupes as well!
Until the end of the 1964 season, the B.R.P. team went on with moderate success. Ex Lotus factory driver Trevor Taylor became Irelands' new team mate and after two races with the 944 he also got a B.R.P. chassis to his disposal.
The Mexican race of that year marked the end of a team that can be seen as an example of all the private teams that with little resources did fight the factory teams. Scuderia Centro Sud, Reg Parnell Racing, DW Racing Enterprises, Scirocco Powel, Rob Walker Racing Team, Ecurie Filipinetti, British Racing Partnership and all the others, added colour and spice to formula 1 racing in that unforgettable 1500 cc era.
I wrote this article back in 1978. It was published in Pole Position, the magazine of a club of formula 1 enthusiasts. The club doesn't exist anymore but the article is as actual now as it was then J. The main source of information was "The Formula One Record Book" of John Thompson, together with Duncan Rabagliati and Dr. K. Paul Sheldon. They form(ed?) a very interesting initiative: the Formula One Register.
Read the book of Richard Falconer for Jim Halls' personal memories and his mixed feelings about his B.R.P. F1 season.
The German mechanics
One of the little things about Chaparral that has been intriguing to me in the Seventies and Eighties was this "German Connection". The fact that an all American 'cowboy' racing team, based in the archetypical desolate Mid West, employed mechanics with German names, I suspected, had something to do with World War 2. True? What was the background of Franz Weis and Karl Heinz Schmid? And sometimes you read about another mechanic with a German name, George Goebel? In 1991 the answer emerged. A Pennzoil distributor sent me a press kit on the occasion of the launch of the Hall/VDS PPG Cart Indycar team. Off course, I still have this precious collectors' item. It contained a backgrounder about Franz Weis and it all became clear.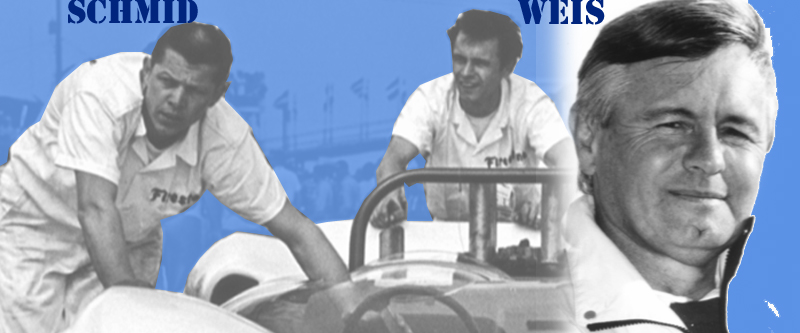 I learned that Franz was born in 1940 in a region of Europe that was called Sudetenland, historically significant as the region was used as Hitler's excuse to invade Czechoslovakia and start World War 2. A vast majority of the inhabitants of Sudetenland had a German background (for more details check Wikipedia). Fatherless due to the war, Franz was evicted with his family from their land by Czechs who seized the property. The Weises were relocated in a German refugee camp outside Stuttgart. Here he started to work in the DKW dealership of Gerhard Mitter, a Porsche factory driver. There and then young Franz realized he wanted to become a professional car mechanic.
After he met an American GI and got his working papers he emigrated to the US in 1959. He started to work in a VW dealership in Dallas and went to races. He met Harry Washburn, a leading driver in those days and moved to Shreveport, Louisiana to work for Harry. He then moved to Midland to work for Ronnie Hissom (whom we all know very well). Hissom had a workshop at Rattlesnake Raceway and there Weis met Jim Hall. When Hissom stopped his business in 1963, Weis became a Chaparral Chap.
Falconer describes in his book how Karl Heinz Schmid became the next German mechanic. It was because of Weis' homesickness for Shreveport that he persuaded Hall to hire his brother-in-law who still worked in Shreveport at a VW dealership.
I'm not sure how long Schmid stayed at Chaparral. The last pictures in my archive of him are with the 2G of 1967.
Weis became a famous engine builder. In some 1977 article I read his secret: a dedicated attention to detail, recognizing and purchasing the right components from the shelves and taking twice the amount of time other engine builders did. This recipe would lead to many successive championship titles in the Seventies (see Racing other brands). Apart from being an engine expert he was a terrific test driver as well. In 1977 he still hold the Rattlesnake Raceway record.
Weis left Chaparral Cars after the 1979 season just before Johnny Rutherford joined the team. He set up a business, VDS racing (also based in Midland), with Count Rudy van der Straten.
In 1991 Hall and VDS joined forces to enter Cart racing (see Racing other brands). And there we are at the Pennzoil press kit again. So, did it ALL became clear? No, there's still this guy George Goebel..
(Sources: Pennzoil press kit: content and photo Weis right. "Chaparral" of Falconer/Nye: additional content. "12 hours of Sebring 1965" by Dave Friedman: photo left Weis/Schmid.)
Troutman and Barnes, Chaparral 1 creators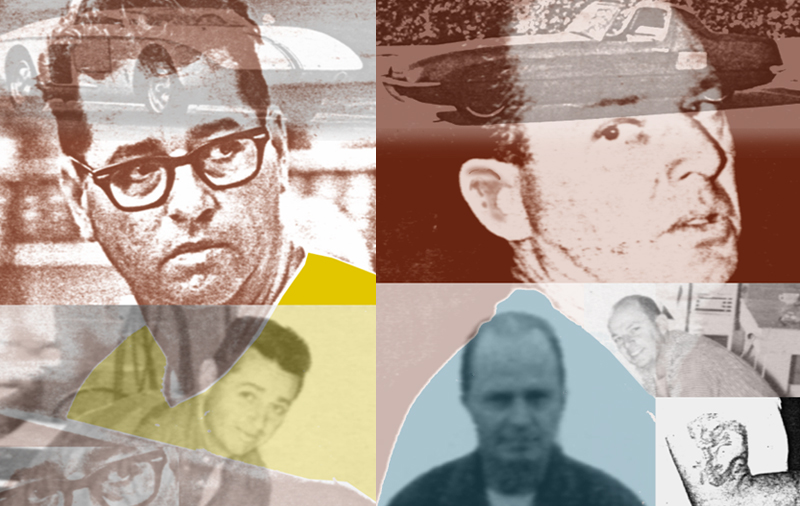 Dick Troutman (left) and Tom Barnes. Car builders. Golden duo, synonymous with outstanding workmanship. Together at Kurtis (building Indy cars) from 1949, building all the Scarabs from 1957, creating all five Chaparral 1's in the early Sixties at their own shop in Culver City. Then Ford Mustang 1 (upper left), strange two wheeled Gyro Car (upper right) and the BRE Samurai to name but a few. Before all that Dick worked at Lockheed as an aviation metal smith and Tom worked in a machine shop. To me, Dick looks like an early Elvis Costello with that spectacles and Rock & Roll hairdo. Tom Barnes looks more like Jack Nicholson. He had a big tattoo on his biceps (lower right). Dick rebuild Chaparral 1 chassis #004 in 1992 and sadly died just before the car was ready. Tom apparently passed away last February. On the official Chaparral website a guest book message (#217), posted by one Bo Barnes on March 14th 2008 reads:
"Tom Barnes passed away 2/12/08. Regards, Bo."
Thank you very much for your message Bo. These guys were a genuine part of racing history. Luckily, a lot of their cars are still alive and well.
(Picture and content sources: Road & Track 11/'67, Velocità 1/'62, Sports Car Graphic 8/'61, artistry by Jan66)