Racing other brands
Chaparral Camaro, back on track!
In 2009 slot car manufacturer Scalextric released the model of the gorgeous 1970 Chaparral Camaro. Inspired by this I started to dig into The Chaparral Files and found some interesting material about these cars and their history. As soon as it arrived in my favourite slot shop it was on my home track. It's a beauty indeed. See Collectors' Stuff for more details. Since there's not a lot published in print during the years let's use this website to tell the story in short.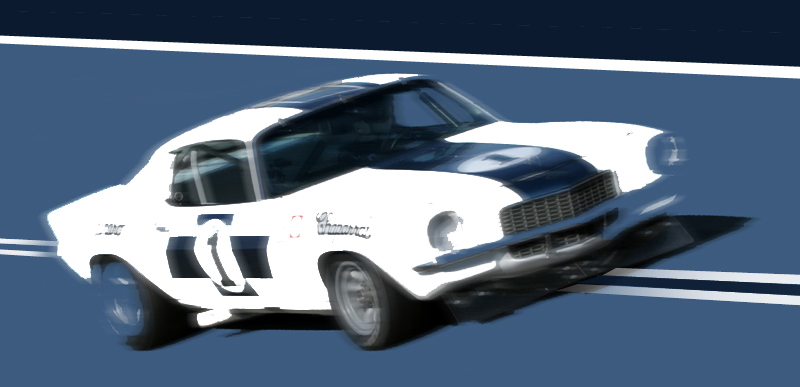 Source picture: ultimatecarpage.com, overhauled by Jan66.
For a couple of years, the TransAm campaign of Chevrolet was successfully operated by the team of Roger Penske (another former Chaparral Chap). They were the 1968 and 1969 champions. When Roger closed a deal with American Motors to race their Javelins in 1970, Chevrolet asked Hall to take over the Camaro team (according the story in Chevrolet = Racing? from Paul van Valkenburgh, Penske tried, unsuccessfully, to lay his hands on the original Chevrolet R&D vacuum traction car for his own CanAm campaign..). At the time Jim and his small team were already very busy developing the 2J. For some reason he didn't say no however and because the 1970 type Camaro was a totally new car, very much time and efforts went into developing the racing sedans, meaning the development of the 2J didn't go as fast as needed. Only Don Gates and Tom Dutton were left to sort out the very complex Group 7 car and as a result, in the end neither TransAm or CanAm series brought very much success. The performance of the vacuum cleaner we all know. The Camaros did some better and even managed to score a win.
One reason Jim didn't say no was that he wanted to drive a race car again. To test himself behind the wheel after recovery of his Las Vegas accident in 1968. After seven races in the Camaro he decided to stop because the road to full recovery and being fully competitive again would be too long. He turned his attention to 2J development and hired Vic Elford to drive both his Camaro and the 2J.
The other Chaparral Camaro seat belonged to Ed Leslie, a sports car and endurance ace of the Sixties. I think I've read somewhere that he already drove for Penske and "came with the deal". Leslie retired from racing at the end of the 1970 season. He passed away in 2005 (being born in 1921).
Karl Ludvigsen writes in his book 'Chaparral, CanAm Racing Cars from Texas" that Milt Minter was another Chaparral Camaro driver. But I think this is not true. According to the book Race Report #4 Milt drove a '69 Camaro during the 1970 season. The Chaparral team used type '70 cars and only two cars were entered. Or at least.. I thought so, because..
I found some very informative websites (I trust you'll return to The Chaparral Files) about Chaparral Camaro and vintage TransAm racing! Look at www.historictransam.com, http://trans-amseries.com and www.hemmings.com. You will see lots of hot stuff including extensive tech specs. Nice detail on the Camaro is the transparent front spoiler. I bet they are the same Lexan stuff as already used on the skirts system of the 2J.
And yet more Chaparral mystery is added! It seems we'll never get rid of it. Like it is said there have been THREE Chaparral Camaros. And Joe Leonard would have been a team driver too. But he isn't mentioned in the list of drivers of RaceReport. In another book he's present though (see results).
The sole remaining car is restored to the expense of $100.000 and still hits the track! The new owner is quoted: "The single biggest item that proved this car was real, other than all the documentation I have, is the dash, molded from fiberglass by Hall. It is the prettiest dash ever built for a race car."
Lucky guy, he has the real thing.. But we'll all have the opportunity to own and race a Chaparral Camaro as well! On our own track at home! Product developers of Scalextric: speed up a little please..
1970 SCCA TransAmerican Championship Chaparral Camaro results:
| Racetrack | Results |
| --- | --- |
| Laguna Seca | Hall 21st (engine), Leslie R |
| Dallas | Race cancelled |
| Lime Rock | Leslie 2nd, Hall 4th |
| Bryar | Hall 5th, Leslie 11th |
| Mid Ohio | Hall 18th (DNF), Leslie R |
| Bridgehampton | Hall 4th, Leslie R |
| Donnybrooke | Leslie R, Leonard 4th |
| Road America | Hall 4th, Leslie R (blackflagged) |
| St. Jovite | Elford 26th (DNF), Leslie R |
| Watkins Glen | Elford 1st, Leslie 7th |
| Seattle | Elford 5th, Leslie 6th |
| Riverside | Elford 26th (DNF), Leslie 6th |
Sources: Chaparral The Texas Roadrunner, RaceReport #4.
The Lola Years
After the disappointing ban on the 2J 'vacuum cleaner' (life sucks..) Jim Hall stopped for a while. CanAm went on however. The supremacy of the McLarens was followed by the Tsunami of the Porsche 'Pantzers', attendance started to drop dramatically and after the 1974 season CanAm, one of the most glorious racing series ever, was dead.
In 1974 Jim Hall was back on track. In partnership with US Lola importer Carl Haas (the character with the ever prominent cigar, (bottom right) he became an entrant in the North American Formula 5000 championships and the revival CanAm series later on in the Seventies. Because of excellent preparation and operational qualities they became highly successful. Formula 5000 Championship were won in '74, '75' and '76 with Brian Redman driving (top row).
The revival CanAm championships started in 1977. Essentially, it was a series for F5000 cars with wheel enveloping wider bodies. Again Hall/Haas dominated. The first championship, in 1977, went to Formula 1 driver Patrick Tambay (middle left). The second was won by F1 world champion Alan Jones. The third, in 1979, went to another famous F1 driver: Jacky Ickx.
In 1980, Tambay was hired again to drive the new full ground effects Lola 530 (middle right). He won his second title.
Meanwhile, Hall and Haas had set their eyes on the famous Indy 500. They commissioned a Lola T500 and entered Al Unser in 1978 (bottom left). Their first try was an instant success. Unser, who had won the Indy 500 already twice, won the three classic 500's of the season (Indianapolis, Pocono, Ontario) to become the first ever 'Triple Crown' winner.
In 1979 Jim Hall would return to Indy with the last of the genuine Chaparrals, the ground effects 2K.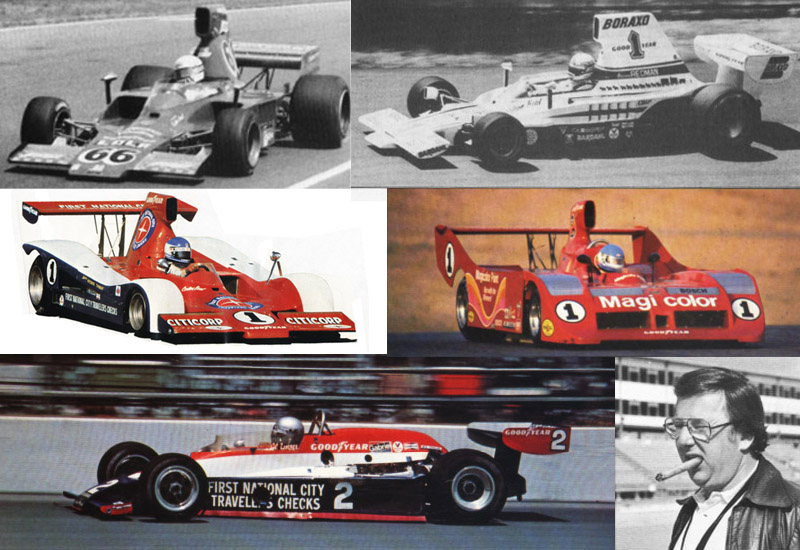 Sources: RallyRacing 9/74, Autosport 24-11-83, ?, Sport Auto 12/80, Autosport 28-9-78, Sport Auto 12/80.
Post 2K CART
When, after a very successful racing career, the Chaparral 2K was finally found obsolete at Indianapolis in 1982, Hall bought a March 82C for Johnny Rutherford to finish the season. Johnny crashed heavily with the March at Pocono, breaking just a finger (left). He returned to the series two weeks later with a second March chassis, finishing 12th in the championship.
At the end of the '82 Cart season Hall withdrew from racing to concentrate on his other business interests but returned once again in 1991 in partnership with Belgian count Rudy van der Straten (VDS) and engine builder Franz Weis, his chief mechanic of the old Sixties days. Team Hall/VDS entered a Lola with John Andretti driving. The Lola connection was back again (right).

Sources: Autosport 19-8-82, Pennzoil press kit.
To be continued.